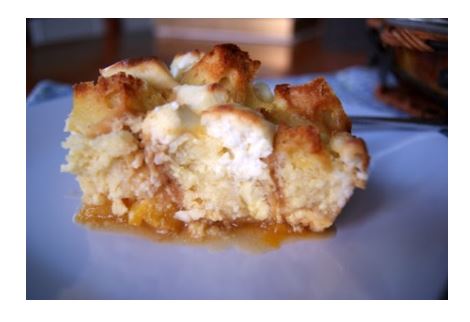 Our Innkeeper, Janis, plans to share wonderful recipes, Inn knowledge and little interesting tid-bits.  We wanted to start by giving you one of the Inn's FAVORITE recipes:
Peaches and Cream French Toast
1/2 c butter
1 c brown sugar
2 tbsp reserved juice from canned peaches
1 29 oz can of peaches, drained
1 French baguette, cubed
8 oz cream cheese, cut into small pieces
12 eggs
1 1/2 c half-n-half
1 tsp vanilla
Heat butter, sugar and peach juice in saucepan until bubbly. Pour into a 13×9 inch casserole dish. Scatter peach slices over caramel sauce. Top with bread cubes then pieces of cream cheese. Place eggs, half-n-half, and vanilla in blender; blend to combine. Pour egg mixture over bread and cream cheese. Cover and refrigerate at least an hour but preferably overnight. Bake, uncovered, in 350F oven for 50-60 minutes.