Many times guests ask the Inn for recipes they had for breakfast or snacks though-out the day.
We do make everything from scratch using the finest ingredients. Since Janis owned a bakery and café for over 20 years, it was a natural step to pass all that yumminess to the Inn.
Janis hopes you enjoys making these delightful treats!
Best Biscotti Ever – Makes approx. two dozen cookies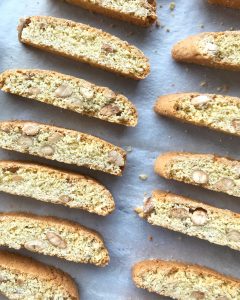 1/2 stick of butter, softened
1 cup sugar
2 eggs
2 tsp baking powder
2 cups flour
1/4 tsp salt
2 teaspoons almond extract
2 tablespoons amaretto liqueur
2 cups of whole almonds
Preheat the oven to 350F. Line a sheet pan with parchment paper and set aside.
Cream the butter and sugar together. Add the eggs, almond extract, amaretto liqueur, baking powder, salt, and flour.
Mix everything well until it forms a smooth, sticky batter. Gently fold in the almonds.
Divide the dough into 2 equal portions. Make two long, 3-inch wide, flat rows of dough on the sheet pan, spaced two
inches apart.
Bake for 25 minutes, or until the cookie rows turns golden brown.
Remove the sheet pan from the oven. Let the cookie rows cool for about 10 minutes then slice into 1 inch pieces with a
sharp knife*. Turn the cookies over so they lay on the side.
Return the cookies back into the oven to dry out any moisture still in the cookies. You can use the residual heat from
the first baking, or turn the oven on to a low temperature.
Granola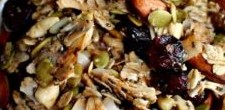 2 cups raw whole rolled oats (use gluten free certified if needed)
½ cup raw almonds
¼ cup raw sunflower seeds
½ cup cran raisins
1/3 cup honey or maple syrup
1 Tbl 1 tsp coconut oil
¼ tsp vanilla extract
Pinch of sea salt
Lemon Blueberry Ricotta Scones
Ingredients
2½ cups flour
1 Tbsp baking powder
½ tsp salt
1 stick butter (1/2 cup), frozen
⅓ cup sugar + more for topping
½ cup ricotta cheese
2 cups fresh blueberries
½-1 cup heavy cream
Juice and zest from 1 lemon
Instructions
Preheat oven to 425°.
In a large bowl, mix together flour, baking powder and salt. Grate butter into flour mixture with a regular cheese grater. Using your hands, mix the butter into the flour until it's nicely mixed and crumbly. Stir in sugar and ricotta cheese, mixing my hand until incorporated. Add in blueberries.
Add lemon juice, zest and cream, starting with just half a cup, and mix by hand. Add in more cream if needed, until a thick yet crumbly dough forms. Dough should still be crumbly, but don't worry! You don't want the dough too thick.
Transfer dough onto a floured surface, rolling if necessary to get all the flour mixed. Shape into a circle and flatten, then cut into 8 triangles. Sprinkle with more sugar, if desired.
Bake at 350 degrees for approximately 20 minutes or until
slightly golden brown